Team Denmark is European Cyber-Security-Champion 2022!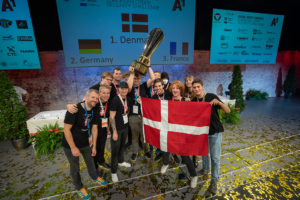 "Stress was literally programmed," is how CSA board member and co-organiser Joe Pichlmayr sums up the exciting finale of this year's 8th European Cyber Security Challenge (ECSC) with a twinkle in his eye.
For two days on 14 and 15 September, 330 highly talented and motivated cyber security talents competed in network and system knowledge, cryptography and steganography, reverse engineering and exploitation know-how, hardware hacking as well as web, mobile and wireless security. In the Attack&Defense scenario, the supreme discipline, the finalists had to simultaneously secure their own networks and hack those of the other teams.
The winning teams of the European CyberSecurity Challenge 2022
Finally, the winner of the ECSC 2022 was the great Team Denmark, which scored best in both the Jeopardy format tasks and the Attack & Defense scenario. Team Germany achieved an excellent 2nd place with strengths in the Attack & Defense scenario, while Team France scored especially well in the Jeopardy format tasks and made it to third place overall. Team Austria, as this year's host country, made it to 10th place and thus among the top 10 of the 33 teams competing.
"There are no losers at the ECSC anyway," says cyber security evangelist Joe Pichlmayr: "By qualifying from over 18,000 pupils and students, the participants have already clearly demonstrated their talent and expertise." Participation in the qualification is also a great introduction to a possible cyber security career: "Those who can stand their ground here and even make it to the finals have very good cards – also on the job market, where our finalists can literally choose their dream job".
Winning teams of the AustriaCyberSecurityChallenge declared
Parallel to the ECSC, the finals of the Austria Cyber Security Challenge (ACSC) took place for the 11th time this year. In addition to the best school team and the best student team, the Austrian national champions were determined in an open competition without age limits.
Incidentally, the European CyberSecurity Challenge owes its current form to the ACSC: The European Network and Information Security Agency (ENISA) adopted the Austria concept eight years ago as a pan-European model to create the ECSC.